Ok... so many things happened since i last posted... soooooo many many million things.
1st... if you have been here before, u'd have noticed that i changed the design... tot this color scheme might be easier on the eyes...
2nd... exams are long over. i screwed up badly. praying that i dont fail any subs now... course registration is tmr... (so fast!) and i just picked the core modules that i will be taking in the coming sem. we get to pick 4 from a few this time round... electives? ah crap stuff, i'm just picking watever i can fit into my timetable. jap lvl 5 clashes with my stupid human resource management core... yes i'm depressed.
so... in the last IT show... i got a macbook pro, and i bootcamp installed xp to run maple... and with it i solved my maple dc problem. BUT there are some stupid bootcamp issues. bootcamp wont install properly so the drivers for stuff like the mac keyboard and all are missing. i cant use teh mac fn keys, i cant see the mac drive (means i cant access any of the files in my mac side of the lappy when i'm using xp)... sucks but... guess i have no choice... tried things like deleting the whole bootcamp n re-installing but it doesnt work... tried reinstalling the bootcamp on xp but it wont install... eventually i gave up... at least the gd thing is that i dont need to use the soft keyboard when logging on the maple... maple wont recognise the mac keyboard at the login screen, and its quite a chore to use the soft keyboard to type out my exceedingly long username n password... so now i can go zak/czak ht/cht etc w/o dc-ing (hopefully), but there isnt a batch recruiting + i gotta check out my time table after i register n aft sch reopens. sch reopening on the 20 smthing of jan... so fast...
trained my db to lvl 100, realised that by waiting till my exams end to buy the CS sb the discount was already over, so i gave up on training db to lvl 120 n beyond.... for now... till the BB patch is out perhaps... now i wanna do other non-maple (or at least not in-game) stuff and go whack all the bosses that i've always wanted to previously... so far i've solo-ed krexel and scarlion!
also went for cwkpq with flame. thk you very much for organizing the run flame... i got my MoN in the run, and it was one with hidden potential too! revealed to only have 2 lines... but oh wells, that neck is a million years better than my mcpq1 neck... here it is: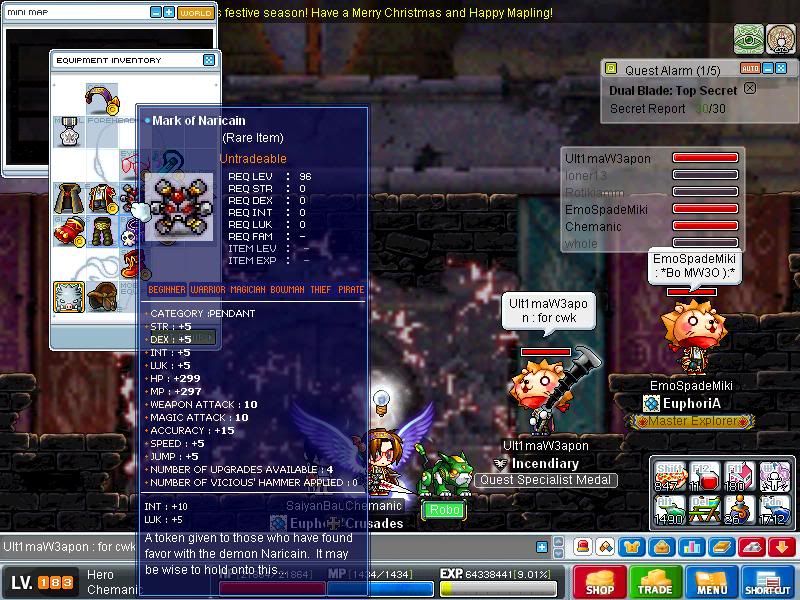 some dc-ed halfway, some died... in the very end there were only 6 survivors left...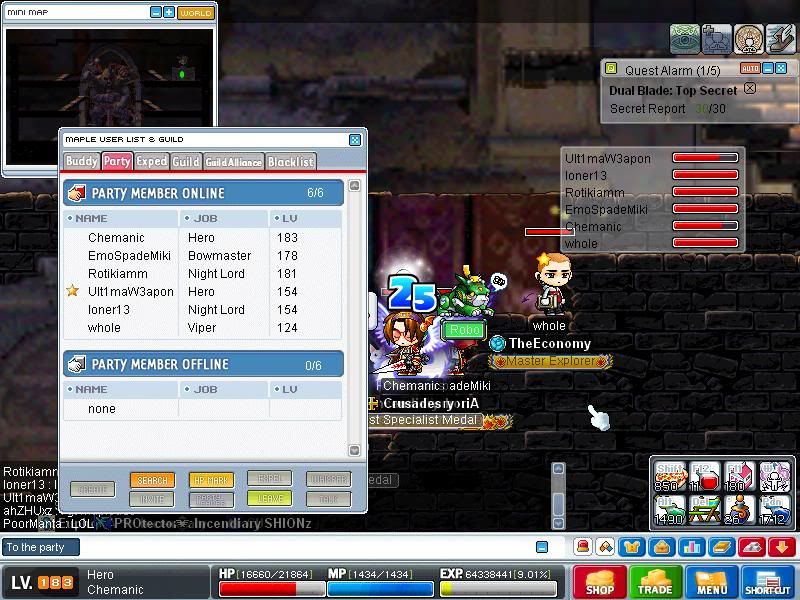 than i went to solo krex with ny new MoN (not on the same day lah). SS are as follows: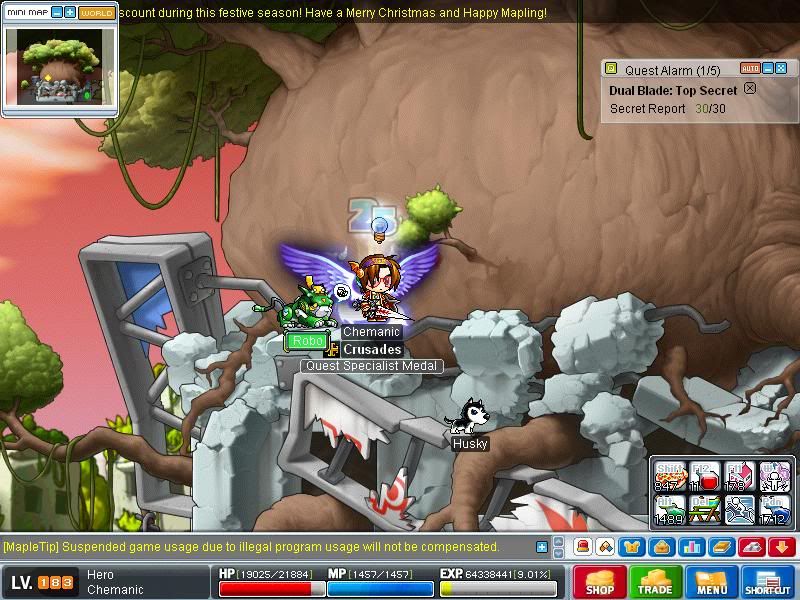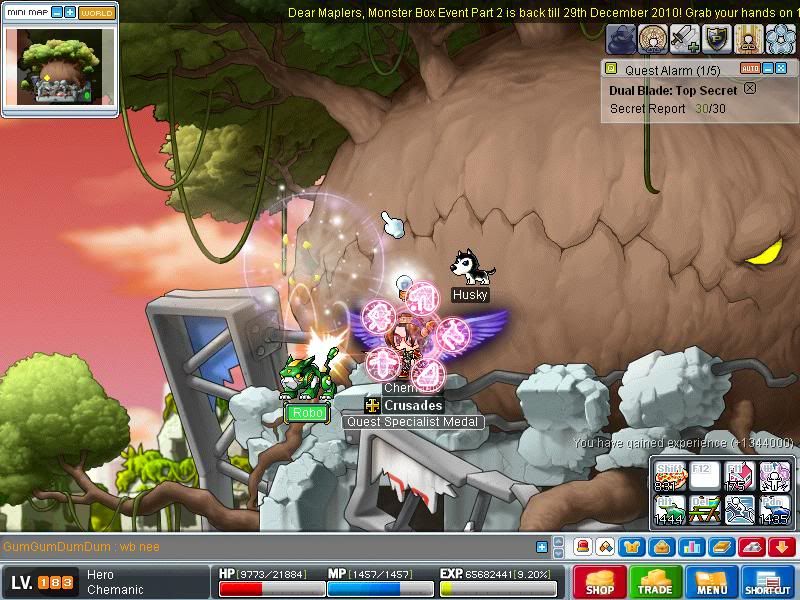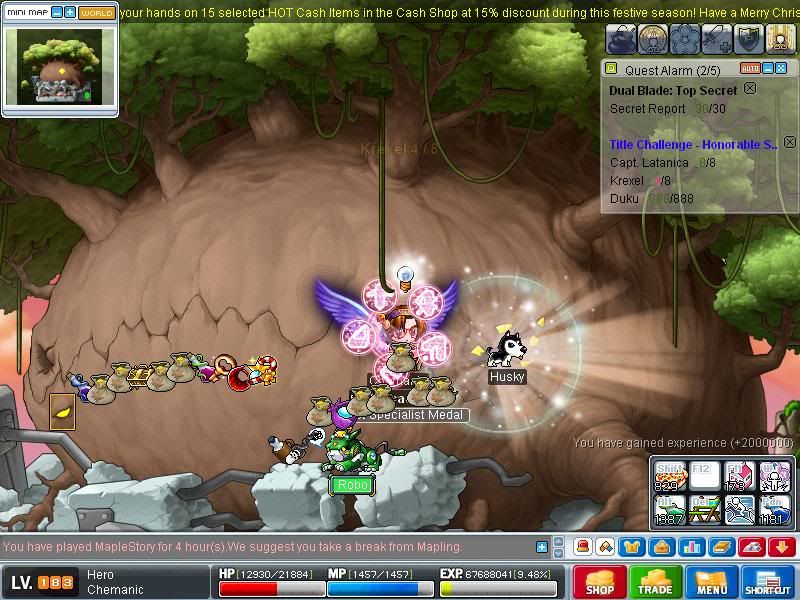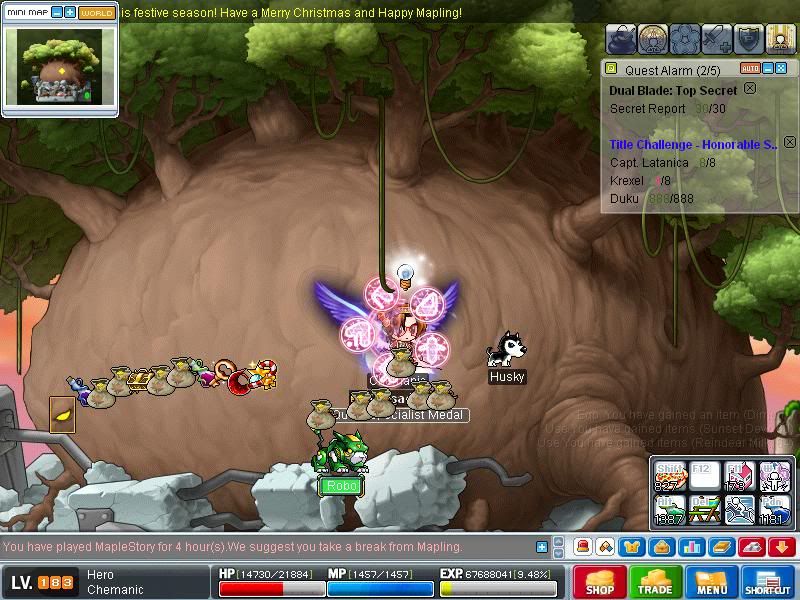 Pot usage:
6 stews
102 honsters (super low pot usage)
531 mana elixir (all these from the sticker events, db training etc)
Time taken: 1hr 32mins
of cos there was time wasted when i didnt notice (or dozed off) i stop whacking already/fell off etc... got once i looked up to see myself taking the eye lol -.-'''
after that... not much activity... than since there was the xmas/new year 15% off online sale, i went to... yes, bearing with the heartache... no kidding, i was really contemplating to wash out or not... in the end i decided to buy acash n wash all those 11 lvls of ap in my hp/mp pool out. decided to wash out since i have been waiting for the opportunity for 1 year, no, even longer than that... there might not be another ap reset sale again... esp since i vowed to wash out before bb comes...
so i washed out the ap, and calculated and realised the 5ap that i left unused could be washed out too, so that was a total of 60ap added into str (compared to when i did my krexel run)... with that, i've washed a total of 39 lvls so far. n so last night... i went to try soloing scar. with a lvl 72 prx in my guild... help the prz helm for free but he still say want to share mesos... want me give him 10m somemore zzzzzzzz. of cos i didnt give him any. dropped a nice gfa 60% but the shoe spd 60 n 2h sword att 60 arent worth much, gfa probably sell ard 10+m nia? not like i'm gonna sell it anyway, gonna keep for my reverse glove or some other glove next time. somemore i let him loot the wand and the mana pots too... (yes, he was slacking during b3, i.e. he nvr do anything at all. say he long time bo play n his acct tio hack, not that i'm cold hearted, but i dont go ard giving mesos, i'm not rich either... and i did help him helm for free didnt i? if he was attacker than sharing the drops wouldnt be a problem, but it isnt the case here. not that he was being a brat and demanding to be paid, but i just found it... a bit inappropriate for him to be asking to share the drops) dropped 3 helms total, he got 18 all on 1st try. was contemplating rehelm but in my hesitation the helms disappeared. guess i will go solo again for my rehelm. my scar that time pot scroll n identify only 2 lines... wanna get a 3 liner...
ok, so here are the SSes... tho i have 60 more str than the krex run, this time i only used range and enrage, all self buffs, no stew!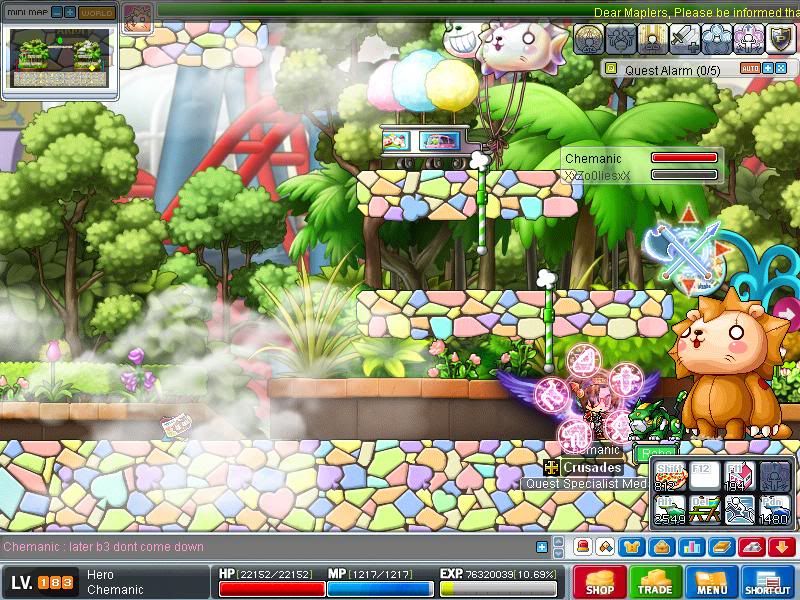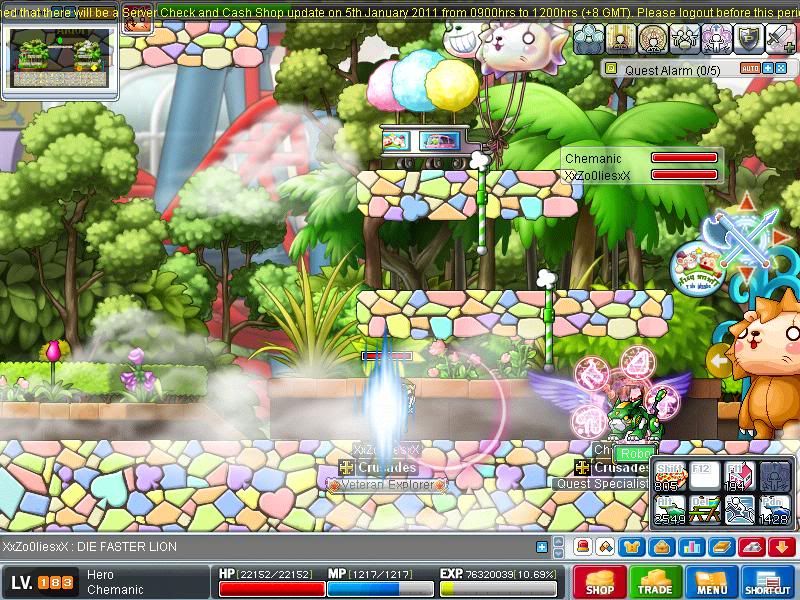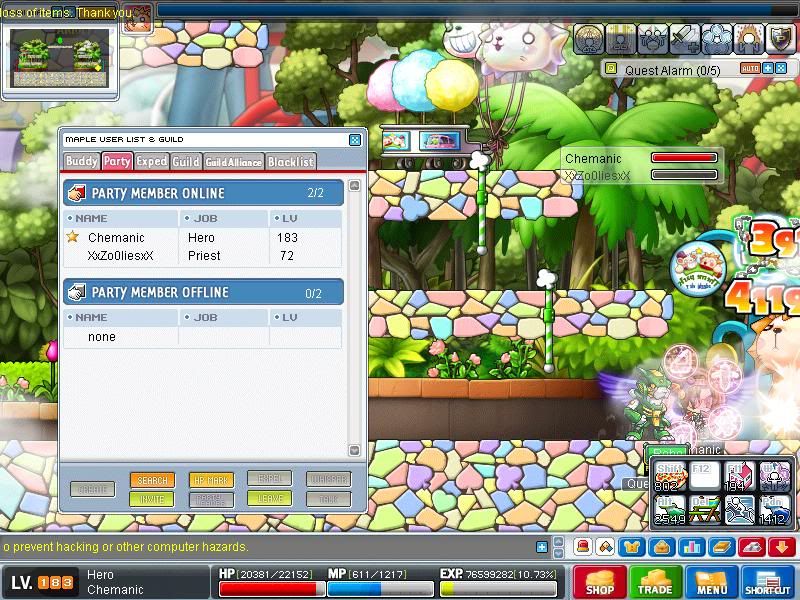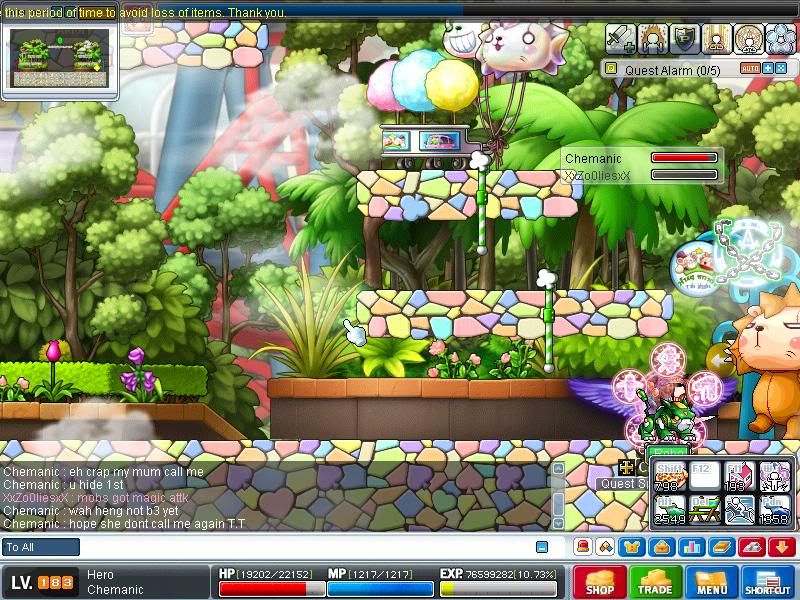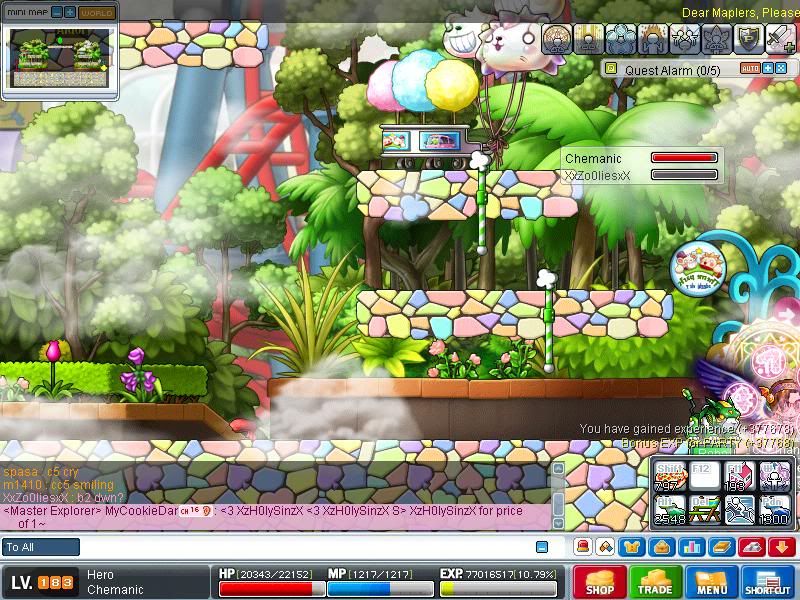 sad no card dropped... 3 helms, 1 wand, gold dagger with hidden potential BUT below average zzz, 1 sparta, 1 gfa 60, 1 2h sword att 60, 1 shoe spd 60...
Pot usage:
324 honsters
391 mana elixir
total time taken: 1hr 43mins (with mum calling me out to the living room to ask me stuff halfway... -.-''' heng it happened in b2 else idk wat to do)
honster usage really quite little... with pg and my yet to max archilles i only take like 5k touch damage. 5k as in 50XX kind... low 5k touch... quite little. and my hp quite alot, makes the pot more worth it... note that although i used a longer time, i used lesser mp pots than krex. that just goes to show how long the super WD up lasts... -.-''' waste alot of time yeah...
hmph... that's all i can think of for now regarding maple stuff...
hmm... been neglectin HS for quite some time... guess i go see wat else i can work on HS now... seems like the post aint as long as i expected perhaps? haha...