pictures say a thousand words, i guess the two SS below says it all on what i'm so happy abt...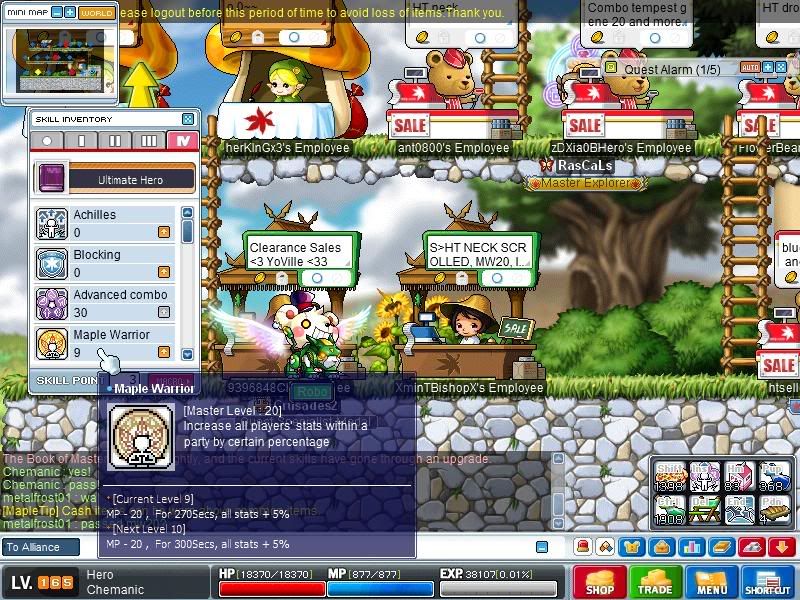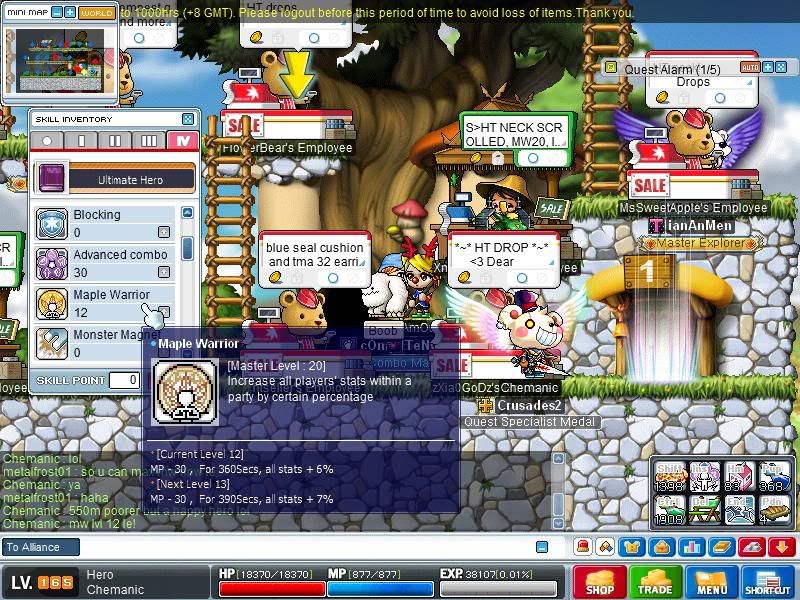 was tempted when i saw so many mw20 for sale in fm... knew i wont settle for anything till i tried passing the SB... subsequently convinced myself that i'll farm at neo tokyo 3rd map to get mesos for another book if the worst thing happened... finally decided to just go ahead with the purchase and scrolled it right away.... very very glad that the book passed! now i'l try and chiong to 168 by this weekend and get mw 19. hope to get lvl 20+ rush by the time the 3x card ends. currently able to do 50% per night at skeles soloing, with the help of some family personal 2x buffs... and yes, the spirit pendant... sadly the spirit pendant event ends next wedn... trainings will slow down quite a lot after that... still hope to hit 174 at least by 7th feb... oh wells, really depends on how the exp per hour drops off as i lvl...
hope to be able to 2hko skeles even with def up real soon, that'll mean i can anyhow rush my way thru skeles, and shd spd up training a notch. also have 4lvls of AP in hp unwashed now. hoping that will have sales during CNY... well either way i'm holding off washing out the AP till after CNY when i get some ang bao $ ><
hero left with 3Xm only... well more than adequate for my normal training purposes. gotta set up shop soon to sell the scrolls and pots though, my storage use inv is overflowing... not sure whether to sell the ele wands and eqs i got from box event now or to wait a bit longer...
amazing, just a few days ago i trained with a 194 BS - 1st time training with BS ever at skeles... the BS was apologizing that he didnt have mw20... i was thinking, hey, i probably wont get mw20 at his lvl too... and now... :D :D :D
actually i think i have enough scrolls and eq to make maybe... close to 400m? i dont know, not TOO sure of mkt prices now... would put me close to enough mesos to get a scrolled ht neck (saw one sold at 1.05b), but then a quick mental sums shows that with my str standing at 746 now (and some 20 points unwashed), mw 20 gives an extra 37 str, more than the 22 str from ht neck... so if i could pass mw20 on the 2nd try, its probably still more worth it than getting a ht neck... and since i'm rushing lvls now with the 3x card, lvling up to get sp to reach mw lvl 19 isnt a problem. of cos, the consolation that i have an iceberg (if i nvr rem wrongly?) to sell if i fail the sb and waste 550m made me DARE to even buy the book...
still waiting for the mark of narican to come out (check HS global if u dont know wat it is), but i think the next piece of eq upgrade i'm going for is probably the ht neck - unless the MoN or some other neck appears in the mean time. i mean... at the price tag of 1b, the ht neck is probably the cheapest eq i can upgrade... 1b gets only a wa16 MS now, 2wa lower than my current. i'm not sure if it can get me an upgrade from my wa12 glove, but i think at most i can get is say wa14 - ht neck adds 21str more than my mcpq neck, that's ard 4wa upgrade? top and bottom... i'm thinking of item maker + self scroll... shoes i'll still stick with spd shoes, and i dont need the dex anyway... and i'd rather item make my own shoes with power crystal... basically nothing much i can think of upgrading... cape i think anything better than wa3, str 4 would be... quite ex... would 1b be sufficient? haiz... anyways, i think i'll still go farming after my 3x ends. with the extremely slow training w/o buffs/cards i doubt i'd be in the mood to train anyway.
okays, time to sleep, nite nite!