sch... is screwed up i tell you...
1stly... my time table suxs to the core. 30mins lunch break on monday? 8:30am classes everyday.... classes end at like 5:30pm almost everyday... loads of breaks in btw classes.... cos somehow they no longer offer my favorite 5:30-7 slot for my jap elective i had to pick the morning class - heck, there are only 3 to pick from, not a lot of choice really, the other two classes all starts at 4:30 which wonderfully clashes with all my 3:30-5:30 lectures. so i had to pick the lab class on wedn morning instead to accommodate my jap elective... so that makes 5 whole days of morning classes when it could have been four. (otherwise my lap would have been on thurs afternoon)
2nd and most pissing reason...
as i've just written abv.... i purposely picked the wedn lab so that i can take jap. than this week, cos wedn the lab will be cut by 1 hour due to some union day crp... the lecturer happily canceled the lab on wedn and put it on thurs! great, now it clashes with my jap. too bad, i went for jap class and cut 30++mins of lab. not like anyone apart from my group mates knew or noticed. they are super heck care really.
than the situation is gonna repeat next week...
from my post elsewhere since i dont want to retype:
arghs, cant stand the sch! next week's lab = go bukit timah hill on field trip. they happily go by alphabetical order, and cos my name right at the end a whole bunch of us got assigned to thursday group instead cos wedn not enough space or smthing... i.e. repeat of this week's time table clash except this one is totally cmi cos its a field trip -.-'''
zzzzzz emailed the person n ask for a swap liao but this is dam zzzzzzzzzzzzzz
at 1st i tot, ok, they want to make it fair and give everyone 3hours, tho we didnt use more than 2 hours.... than my friend whose lab is supposed to be on thurs say (they separate the groups into labs at the basement n on 2nd floor) the lecturer told them to finish up fast cos someone was gng in to use the lab at 1:30 (2 hours aft the lab session starts). than he say they shdnt use more than like 1.5hours or smthing... great? why did wedn's lab get canceled than??? and why the heck is someone coming in to use the lab when its originally our year 3 lab time slot???? this is just so screwed i dont even know wat to make of it anymore... (if the arguement was that some lab session was held during wedn's timeslot, hello... that's supposed to be our timeslot, why isit taken up by others? cos of union day? all that shd have been planned and taken into account earlier on right? lack of communication btw the uni n the schs? screwed up stuff really)
than the sch came up with new measures like installing lockers outside the lab for us to put our bags... but hte lockers are so pathetically small... -.-''' i didnt try but i most likely have to empty my bag to fit it in -.-''' my friend with a bag smaller than mine had to take out her water bottle, file, and laptop to put her bag in... THAN put them in the locker individually (still the same locker, but the big package as a whole couldnt go in) like wth lah... thankfully if my labs are on wednesdays i shdnt need to bring my lappy or anything, so i can bring a smaller bag and fit everything in... but like yest with my laptop, jacket, japanese tb and notes... other leture notes etc... i didnt even waste my time trying, just bought it str to the lab. and its quite stupid becos they already had a cupboard thing on each bench for us to put our bags... zzzzzzz
than the electives system... of having to clear blah blah blah no. of academic units(AUs) in each category. too few choices offered, too few slots for those popular classes... and worst still more than 70% of the prescribed electives clash with my timetable EVERY SEMESTER. for some categories like biz where there are few courses offered, its as good as every course clashes with my core that sort of thing... at the end of the day, i'm just picking anything that i can bloody hell fit into my timetable, regardless of whether i like it or not (so long as i wont fail...). expanding our horizons and letting us pursue interests outside of our degree? yeah right man. which leads me to the next crappy thing i have this sem...
once again, what i've posted elsewhere(last night):
tired... time to slp... heng tmr morning lect dunnoe why canceled. only got a stupid info lit thing in the afternoon. would have skipped that too if not for the stupid project group forming thing... haiz.

its really stupid... she was talking abt searching google... going/using databases... and i'm like... google even a 3 year old kid can do... databases - we learnt using biological databases in sec sch... and they taught us again in uni... and we just had a talk in usin ghte sch library resources... and as the admin of HS-SEA (a DB)... wat the h3ck am i doing in the class really???

i cant believe that the sch actually pays the lect to come and teach stuff like this!
no im not being biased or anything but the kind of stuff she said in the 1st lecture was like... things u might say to primary 1 or kindergarden kids. in terms of the content, the way she said it... the lame, pointless stories she tells... haiz, i would have skipped all the rest of her lects but than there's some stupid project work thing... oh wells... for the free A... and to clear my AUs to graduate... at least there's powerpoints every seat in the lt and i can do stuff on my lappy...
okays, enough for now... haiz...
end of sch stuff... now let's talk maple...
ring event: managed to get rings for aran, hero, evan, dual blade to come... made a sin, but sadly made it to like 45 or smthing only and didnt get the ring T.T
the sunburst and the ravana hat: we all know abt how the event ended early and such... in the end only my aran managed to get a helm... but its a nice BLUE helm... really surprised... all the scar helms my hero looted were understat... this one is... abv average cool!
ok, here comes the pictures... and special thks to dt100 for going ravana with me!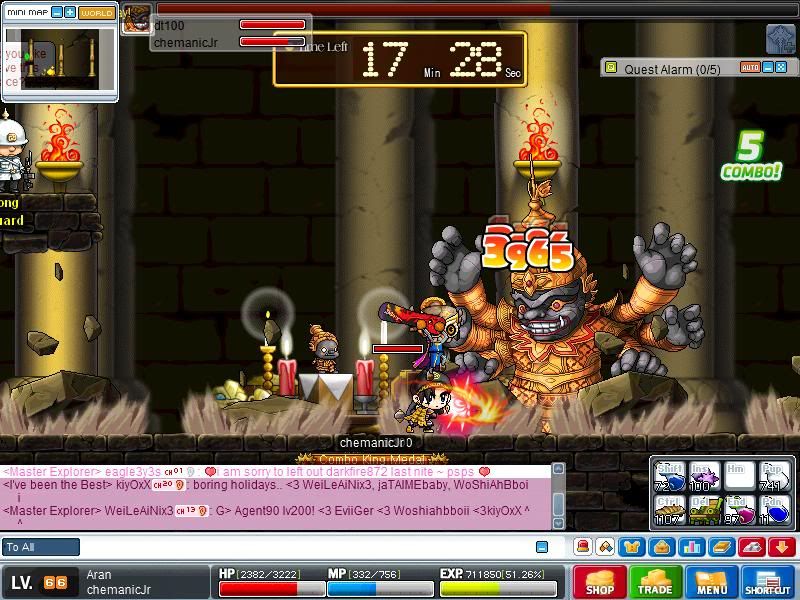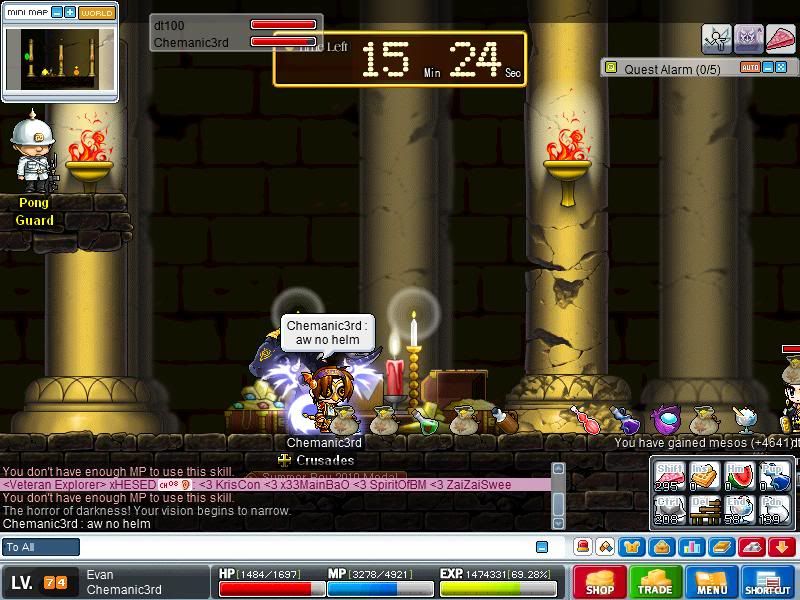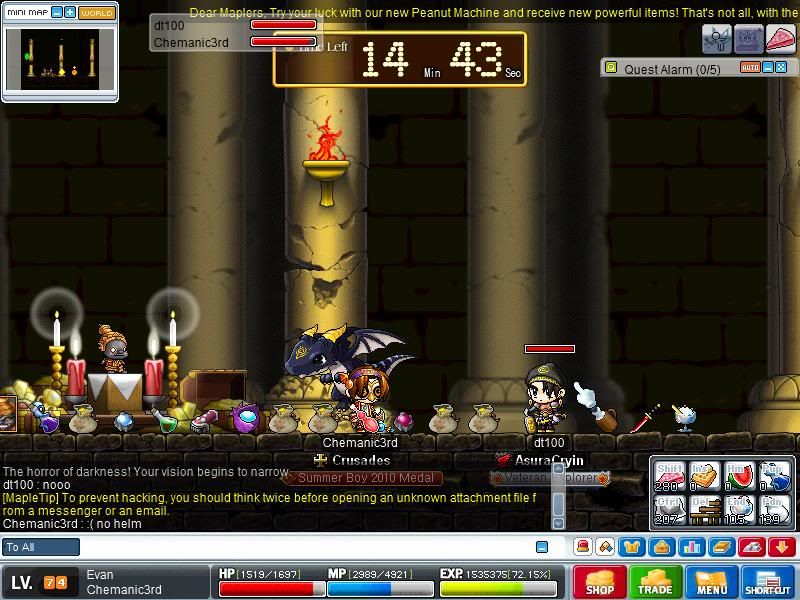 okays, shall prepare to go for that stupid info lit course now... shall continue posting in class later... or maybe i'll make a new post...